Policy Management System
EASYwriter Pro®, our exclusive policy management system, makes it easy to manage farmer policies. We work closely with the Risk Management Agency (RMA) and integrate their data, so you can be confident that the policy you're managing is current. It also features a strong validation system to proactively identify and reduce policy errors, ensuring RMA is sent accurate data. With EASYwriter Pro, everything you need to manage crop insurance policies is at your fingertips.
Are your farmers interested in simple, hassle free acreage reporting?
NAU Country is part of the Acreage Crop Reporting Streamlining Initiative (ACRSI). Your farmers can simply report their acres to you, including their non-MPCI acres. We will automatically transfer them to the Risk Management Agency (RMA) clearing house and then they are sent on to your local FSA office. This will make your farmers time spent at the FSA office a quick and easy experience, as they will simply need to request to have their reported acres pulled in for review.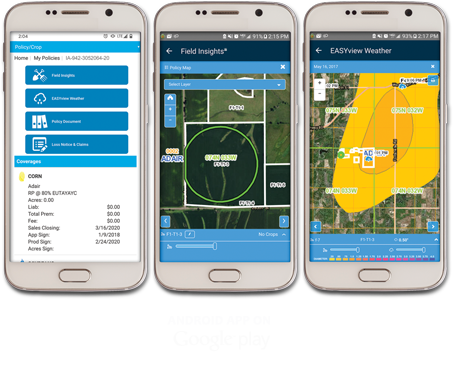 On the go? Our free mobile application lets our agents work when and where it's convenient.
NAU Country is a true mobile solution for the active agent, featuring a full set of tools to write and manage crop insurance from any location. These mobile features include quoting, application and policy change form submissions, eSignature, acreage reporting, claims tracking, and so much more. Assist your farmers from any location! The mobile app is available on your iPad®, Android tablet, iPhone, and Android phone. Download the NAU Country mobile app today!
Don't forget about our industry premier mapping services!
EASYmapping®, our complimentary mapping application, is the most efficient and user-friendly program available for both agencies and farmers. We offer custom field views and even customized crop colors on your maps. Agriculture may become more complicated every day, but reporting and tracking crops has never been easier.
Our free EASYmapping service includes an EASYmapping Production/Acreage Reporting Booklet and one EASYmapping Pocket Map every crop year. What a great service to offer to your farmer!
If you can farm it, NAU Country can map it! Contact us today to learn more about our mapping services.