Weather Metrics at a field level
Allow your farmers access to weather metrics at a field level with our crop management platform, Field Insights®, and EASYview Weather. These tools are designed to assist in understanding crop health conditions at a field level. They help reduce loss risk and allow your farmers to be more productive in the field by utilizing current, future, and historical weather data, growth models, soil data, spray and harvest advising, and frost alerting. In addition, EASYview Weather helps them to verify and locate the proximity of hail events in their fields! For more details on Field Insights and EASYview Weather, click here.
Deliver excellent customer service!
We want you to be the first to know when potential hail damage hits your farmer's fields so that we can provide top-notch customer service together! Plus, gain the competitive advantage by also offering hail notifications to your insureds.
Click here
to sign up for notifications today! Or ask your NAU Country marketing rep for assistance in signing up for Hail Probability reports for yourself and Hail Notification alerts for your insureds!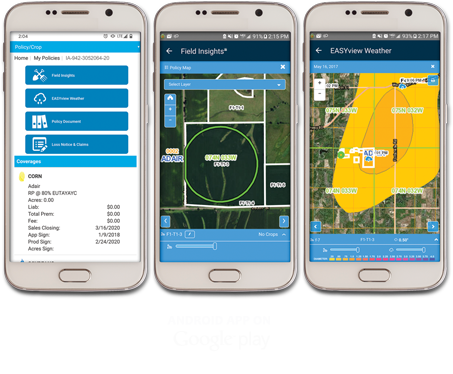 Did we mention that we are mobile?
You can offer your farmer the ability to manage their policy on the go! Download the NAU Country mobile app today and they will enjoy the following features:
View coverages and insurance specifics

Ability to email or call you from within the application

Receive an electronic copy of previous billing statements anytime

Submit a notice of loss as soon as they determine there is a probable loss

Track the status of their submitted claims

Tap "Policy Map" to view mapped fields

Understand their crop health conditions at a field level with Field Insights®

Stay informed on the latest hail event with EASYview Weather

View premiums due and indemnities paid
Online bill pay is available!
Our Farmer Portal allows online bill pay and paperless billing enrollment! In addition, your farmers can access their Policy Provisions at any time! The Farmer Portal is an easy-to-use web based tool that provides your farmers access to their policy billing details, 1099 statements, indemnity payments, and so much more. It also offers the ability for them to enroll in direct deposit for faster loss payments, view policy coverage information, track their losses, and interact with their policy maps. Plus, their adjuster contact information is easily accessible.
Does your farmer have a Global Positioning System (GPS)?
If so, we offer Precision Farming! Offer your farmer the ability to make reporting production and acreage information easier. We offer cloud based reporting right from their tractor. Plus, you will be updated with each farmer upload and report request!
Learn more about Precision Farming!
One account for two services!
Your farmers only need one account to login to both our Farmer Portal and NAU Country mobile app. Have them register today!
Register now!