Make the Agency Dashboard your first stop in the morning, for your crop insurance stats.
Our Agency Dashboard provides important year-over-year information on policy premiums, acreage counts, loss ratios, claim statuses, and more, all in one central location.
The Agency Dashboard is broken into four sections that will allow for easy access to the important information you need for your day-to-day business management.
These four (4) sections include Claims, Key Activities, Premium, and Agent/Agency Documents Due. Read more about each section below.
In addition to the four sections above, you will have easy access to search for MPCI and Hail policies, a quick link to EASYquote®, and access to all your favorite reports. Our Report Center allows you to search for reports, access recently ran reports, save your favorites, and customize your filters! Access through our EASYwriter Pro® system today.
Business Management has never been better!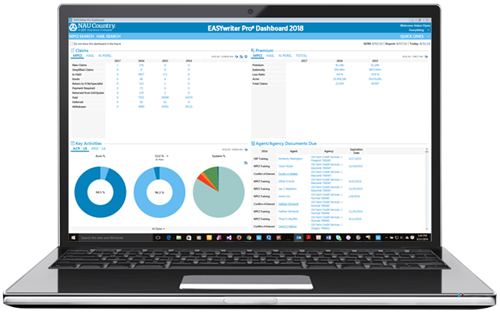 Claims
Our Claims section allows you to see data broken down by MPCI, Hail, Named Peril, and Total claims. Within each claim type, the Dashboard will provide further information based on crop years. Here you will be able to track your agency claim totals, the status of your insured's claims, and even detailed information including adjuster notes and indemnity details.
Premium
Our Premium information provides year over year information on premium amounts, indemnity totals, loss ratios, acreage counts, and your total claim count. This information can be broken down by MPCI, Hail, Named Peril and total book of business.
Key Activities

The Key Activities section will provide charts for you to monitor your missing production and/or acreage reports. By looking at the chart you can view your percentage complete and by clicking on the chart, you can actually see what policies are still incomplete. This section also allows you to view your Common Land Unit (CLU) percentages and system percentage details.
Agent/Agency Documents Due
Ever wonder if you need additional MPCI training to fulfill your Continued Education (CE) hours? This section will take care of your needs by providing any documents or training that is due. It will also notate the training and document expiration date. This information will be based on the agents that fall under your Agency code.