Hassle-Free Crop Insurance Transfers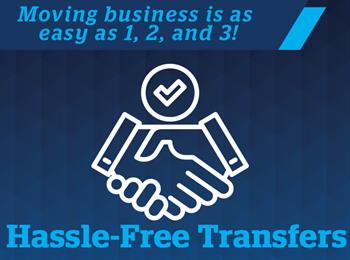 Moving business is as easy as 1, 2, 3!
NAU Country Insurance Company provides Hassle-Free Crop Insurance Policy Transfers. We know the thought of transferring business may seem overwhelming. Let us prove to you how simple it can be!

Depending on your business structure, we may be able to automatically import your policyholder data directly into our system. This option may vary by agency.
*Confirmation of Coverage Page(s) must be submitted in a timely manner to allow processing before important deadlines. They must also include the policyholder's full Tax ID for processing.
NAU Country Incentives
Once you have made the move to NAU Country Insurance Company, you can sit back and enjoy the following perks:
Unbeatable customer service
Crop Insurance expertise pertaining to your region and crops. Our product line and specialties include the full range and Multi-Peril Crop Insurance (MPCI) and FCIC backed plans including:

Yield Protection
Revenue Protection
Whole Farm Revenue Protection
Margin Protection
Dairy Revenue Protection
Livestock
Nursery
Rainfall Index and more!

Timely and efficient claim service

Direct Deposit of Insured Indemnities
Mobile Notice of Loss submission and claims tracking
Claims Notifications

Commodity Market Commentary and Analysis
Technology at your fingertips including:

Mobile Policy Management
Quoting and Historical Analysis with EASYquote®
EASYsign eSignature functionality available on processing and claims documents
Our Flagship Farmer tool, Field Insights®
Digital Data import for Production Reporting
Preliminary Acreage Reporting
Top-rated Mapping system
Precision Farming cloud import and personalized dashboard

Financial Self-Service Options
Sales Tools
...and so much more!
At NAU Country, we partner together to make insurance great!
Insuring your crops. Ensuring your success.®
You won't regret the move. Call us today!